Cali-Baja is a vibrant and thriving binational region where thousands of people cross the border every day for both work and leisure. This flow of workforce and tourists makes access to high-quality health care on both sides of the border vital to our regional economy.
According to the Secretary of Tourism of Baja California (SECTURE), it is estimated that in 2016 a total of 2.4 million people travelled to Baja California for clinical purposes contributing 800 million dollars to the regional economy.
What draws them there?  In addition to accessing healthcare services where you live or work, some are seeking out physicians or procedures specifically in Baja. Some lack suitable insurance to cover their needs in the U.S., some have insurance that covers the cost of treatment in Mexico, some make the trip for reasons related to culture and language, some seek state-of-the-art technology only available in Mexico, and some go simply because the quality of care you receive for the price justifies a day in Tijuana.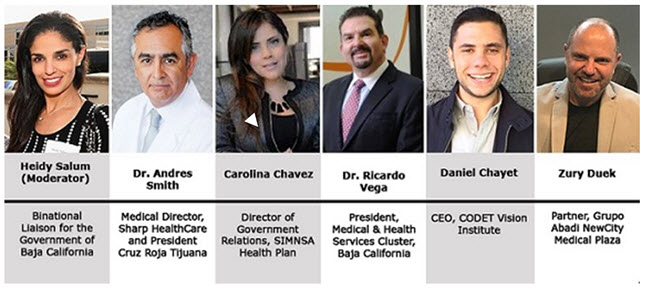 Our August 2nd forum will focus on the topic of binational healthcare and medical tourism and aim to answer a few key questions:
What programs and partnerships are in place to provide healthcare to our binational population?
What are the trends in medical tourism, how is it developing?
What is the future of binational healthcare and what role does / can the government play in its development?
Join us for an informative dialogue on the healthcare opportunities available in Baja California, the advantages this industry brings to local San Diego businesses and the positive impact it makes on our regional economy.
Space is limited. Chamber members are given priority to attend this event.
If you are not yet a member of the Chamber please feel free to give me a call at 619-544-1392 or send me an email at cgant@sdchamber.org to be added to the list.
Sincerely,
Courtney Gant
Member Relations Manager
San Diego Regional
Chamber of Commerce 
p: 619.544.1392