Marisela Molina Wins Top Customs Award
The College of Trade and Logistics Specialists (Cecel)
In March of 2019 Marisela Molina received the prestigious recognition of "PREMIOS A LA TRAYECTORIA EN ADUANAS Y COMERCIO EXTERIOR CECEL 019".  (PRIZES FOR THE CUSTOMS TRADE AND FOREIGN TRADE CECEL 2019)
The College of Trade and Logistics Specialists (Cecel) recognized the most experienced customs figures in Ciudad Juarez.
Personalities who taught the first training in filling out the petition, consolidated motion and the founders of the most recognized customs agencies were some of the honorees.
Luis Contreras, president of Cecel in Ciudad Juárez, said the purpose of the group is to professionalize foreign trade actors.
The intention of the award is precisely to recognize those who have served in the training of customs agents in the city.
The honorees were:
Maricela Molina, customs director of Tecma.
Luis Enríquez, founder of one of the agencies with the longest trajectory and who worked for several years in the area of customs in Delphi.
Javier Ríos founder of Cecel.
César Pérez Ponzio, former president of CECEL.
Lino Pérez, who also worked at Delphi and Eduardo Esparza, one of the most recognized customs agents in the union.
José Castañón Sandoval, a member of Cecel, said that the school currently, has 40 active members.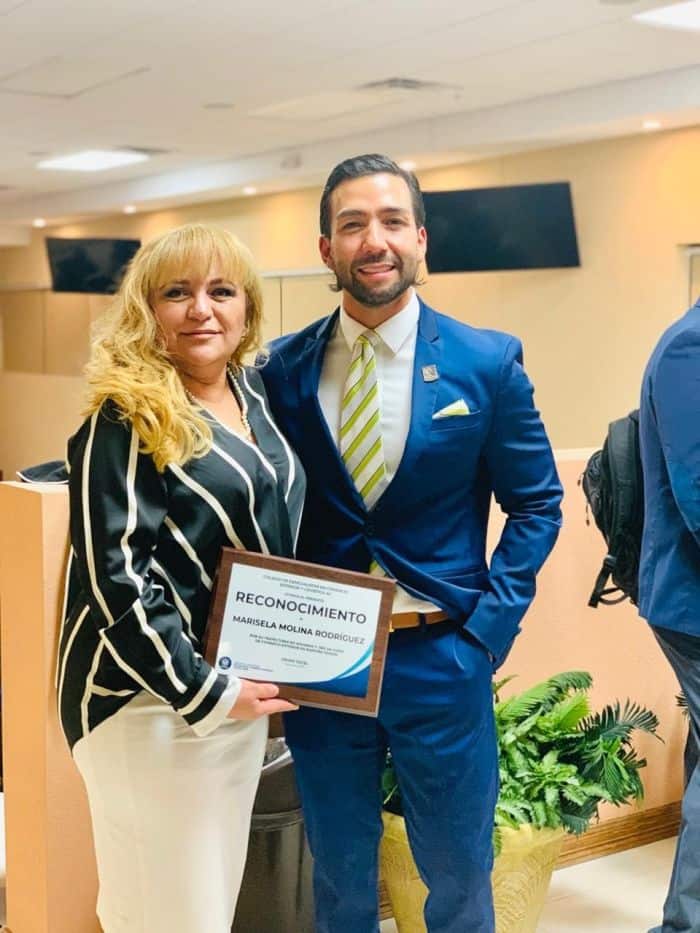 It is composed of representatives from the Immex and customs areas of the industrial sector.
Among its activities is the development of workshops on exchange and updating issues in foreign trade.
More About Marisella Molina
"We are proud of her achievement and look forward to many more years of success. "Jose Grajeda, Chief Operating Officer of the Tecma Group of Companies
Below is the profile presented by the President of the Customs Association of Juarez.
Degree in Customs Administration.
Started her career in 1984 at a Customs Agency
In 1986 she began work in the Maquiladora Industry
She has 35 years of experience in the area of Foreign Trade. (customs).
Her experience has taken her far in the medical, automotive and electrical industries.
For her last 20 years in a preeminent Shelter company which participates in every industrial field.
She has been with Tecma for 20 years where she currently holds the position of Director of Customs.
She directs Customs operations in the cities of Cd. De Tijuana, Torreón, Silao, and Cd. Juárez.
Marisela is in charge of the administration of 19 IMMEX with their respective VAT Certifications | IEPS that house over 80 different companies.
Marisela and John Rippee of The Tecma Group of Companies
CHALLENGES: In the beginning, the number of women who moved within the Foreign Trade and dispatching customs was counted on the fingers of one hand, the main challenge was the earned respect and credibility among the industry.
From that position, she has had the fortune to participate in dozens of start-ups and provide her expertise and guidance for the future success of those involved.
Marisela's achievements have included Tecma's expansion projects.  Starting and operating a transportation company.  Integration of software systems.  CTPAT certifications.  Leadership, Leadership and Leadership.
"I have loved my career path and the opportunities it has provided.  My life has never been monotonous in this field.  The challenges give me an adrenaline rush every day and I have the opportunity to work with my colleagues and friends."  Marisela Molina