Mexico Industrial Catering by Tecma
Mexico industrial catering services or, for that matter, those offered to workers in a manufacturing environment in any country are critical to the maintenance of the health, productivity and satisfaction of a company's most valuable asset: its human resources.
The Tecma Group of Companies provides industrial catering services to clients operating in the maquiladora under its Mexico Shelter Manufacturing Partnership (MSMP), as well as to manufacturers operating in Mexico as wholly-owned subsidiaries of U.S. or foreign owned companies.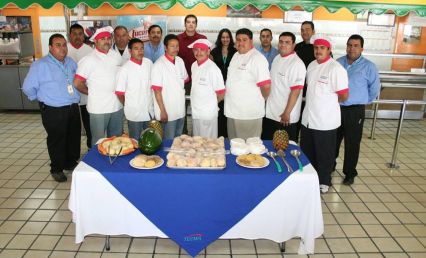 Companies choose Tecma's Mexico industrial catering services because of the healthy and delicious traditional Mexican fare that the company's staff prepares and services in a customer service conscious manner.
Among the reasons to choose the Tecma Group of Companies Mexico industrial catering service are:
The use of quality ingredients
The following of stringent safety and hygiene practices in the handling, preparation and serving of food to maquiladora employees
The offering of a wide variety of menu options
The provision of structured, nutritious and traditional mails that rotate on a six week basis
The availability of industrial catering service plans tailored to meet the needs of manufacturers in Mexico
The serving of satisfying portions
The availability of all-you-can eat options
The provision of services for special events such as employee picnics, special recognition dinners, receptions and conferences
Mexico industrial cafeteria services offered by the Tecma Group of Companies maintains its high quality by choosing the best suppliers of inputs and holding them to the highest standards of excellence.
In order to ensure the consistent and continued quality of its suppliers, Tecma industrial cafeteria service personnel conduct periodic audits to ensure that the highest standards are met.  Trust Tecma's professionals to care for the health and welfare of your firm's employees in the area of food service.
Contact us with your questions related to Mexico industrial cafeteria services offered by the Tecma Group of Companies.
Get in touch