Call Centers Business Process Outsourcing (BPO's) Modern Contact Centers 
Save 50% or more on labor costs and remain in North America!
Class 'A' Facilities Tecma provides Class 'A' air-conditioned Call Center space, preinstalled with the latest fiber optics and micro-optics backup communications. Also, emergency backup generators are at the ready.
Lower Labor Costs Historically, our clients have experienced labor savings exceeding 50%.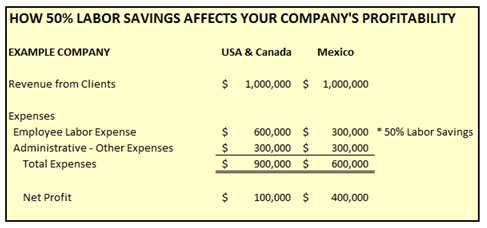 Off Shore Call Centers Are Returning as Near Shore Call Centers
Benefits of the Tecma Call Center Program
Location is convenient for American and Canadian Companies in El Paso, Texas – Juarez, Mexico. Put an end to costly loss of executive and staff productivity due to distant travels.

Stop high-cost airline tickets and hotels as executives and training teams travel to distant lands.

If desired, your on-site executive team can live in an American city, San Diego, or El Paso, Texas.

You can set your size of operations; 100, 500, 1,000, 5,000, or more.

Immediate start-up within 30-60 days of contract signing.
Qualified Employees: Thousands of b-lingual employees are ready to handle Call Center functions, Data Processing Functions, Inbound and Outbound Customer Service, and Out-Bound Marketing Services.
How Does This Work? The Tecma Group of Companies of El Paso, Texas, is a 35-year-old company that helps companies set up lower-cost operations in Mexico. Bring your expertise and equipment, and we take care of the rest. You'll operate your company in the same way you do anywhere in the world. The only difference is your final labor and support costs are substantially reduced.