Mexico free trade network poised to expand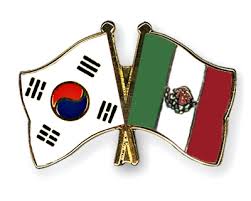 South Korea – Mexico free trade talks that began between the two countries in 2007, are about two be taken off the back burner by potential the governments of the parties to the potential agreement.
In 2008, discussions on the matter stalled for a number of reason. Most prominent among them were the following:
The South Koreans had concerns on the agricultural side that had the nation's farmers wary of potential damage to their bottom lines.
Mexican negotiators had reservations with respect to issues having to do with manufacturing. South Korea is particularly strong in its ability to export quality auto parts. Seventy percent of Mexico's exports are comprised of manufactured goods.
The global economic slowdown created matters that were of more pressing at the time than successfully concluding a South Korea – Mexico free trade agreement.
Now that the last of the aforementioned points has abated, both companies have agreed to come back to the negotiating table. This will happen at bilateral negotiations that will happen later this month and during October. The president of South Korea, Park Geun-hye and that of Mexico, Enrique Pena Nieto will meet face to face during the annual APEC meeting from October 5 -7, in Bali.
The appointment of experienced ambassador, Luis Carlos Bernal, to lead Mexico's embassy in South Korea seems to be a signal that his country's commitment to successfully completing a South-Korea- Mexico free trade agreement is a solid one.
Economic activity has increased between South Korea and Mexico in recent months due to the former's initiation of direct cargo flights to the NAFTA partner country this past August.
When successfully concluded the South Korea – Mexico free trade agreement will be the forty-fifth country with which Mexico has such commercial accords.
The full original article can be read at The Korea Herald.