Recognizing the UTEP Centennial
Vibrant links between higher education and the manufacturing economy of the communities in which such institutions are resident are of immeasurable social and economic importance.
In addition to enriching the cultural and intellectual lives of the cities and towns in which they make their homes, technical schools, two and four-year colleges, as well as universities constitute a fundamentally important link in the chain of support networks for industry that creates jobs for citizens,  and, subsequently, economic health for regions.
This year, the aforementioned assertion is of particular relevance for those of us that enjoy living and working in the El Paso – Ciudad Juarez Borderplex.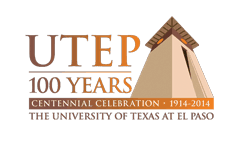 2014 marks the year during which UTEP Centennial festivities take place, as well as is the year that anticipates its second hundred years of existence. According to UTEP's President, Diana S. Natalicio, the commemoration of the University's first one hundred years is also an "opportunity to look at the next leg of UTEP's journey."
During the UTEP Centennial year, those of us that are watchful of the health of the region's industry, take greatful note of contributions made to the local industrial base by University affiliated entities such as the Research Institute for Manufacturing and Engineering Systems (RIMES), and the Texas Manufacturing Assistance Center (TMAC).
RIMES, previously known as the Institute for Manufacturing and Materials Management, or IM3, takes the regional lead in "focusing on new knowledge of systems and their applications to manufacturing and engineering," while TMAC provides "hands-on" services to local industry suppliers that are aimed at making them competitive and profitable.
The Texas Manufacturing Assistance Center offers customized guidance that enables local companies to develop and implement Lean Enterprise Operating Systems, to utilize made to order training assistance, and to upgrade their organizations by obtaining certifications, cutting energy costs and maintaining a safe work environment. TMAC also helps local industry to create and retain productive and engaged workers, as well as to formulate medium and long-term business strategies.
UTEP Centennial activities commemorate not only the good work and value that RIMES and TMAC bring to the El Paso – Ciudad Juarez community, but also the many other ways that this venerable institution of higher learning enriches our daily lives.
Civically conscious and savvy  manufacturing executives should make a special effort to support the centers of higher learning in the communities in which they live and work.