China Manufacturing Moving to Mexico
China Manufacturing Moving to Mexico
The Dilemma:
Today we are seeing U.S. manufacturers possibly facing 10%-25% tariffs on imports from China that were free of tariffs until recently.  Discussions with several of these companies reveal that their shrinking margins are creating concerns for their financial futures.
These conditions of unrest may be short-term but, history has a way of repeating itself, and the probability is that they will return.  Top management of U.S. companies that have placed the future of their companies in this situation is giving serious consideration to bringing some or all of their distant manufacturing back to North America.  The most logical location that is now providing even lower costs of production is Mexico.
A recent article in the San Diego Union focuses on China Manufacturing Moving to Mexico.    View San Diego Union article.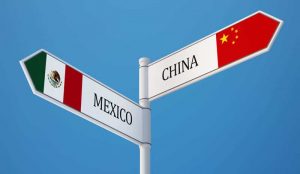 China manufacturing moving to Mexico
Taking measures to move some of their manufacturing from China to North America is an initial step we are seeing U.S. companies taking.  This trend is occurring at the same time that labor costs in China exceed labor costs in Mexico indicating that the decisions go beyond tariffs and political issues but are now being based on economics as well. In looking at moving production to North America, Mexico becomes an excellent choice as it is nearshore, a low-cost country, and has benefited from over 50 years of U.S. Maquiladora manufacturing
[savings_estimate_cta]
Just How Does a U.S. Company Move Manufacturing Back from China?
The answer is not as complicated as one might envision.
A U.S. company makes a decision that it is going to move some or all of its manufacturing from China to Mexico.
The company locates a Shelter Service Provider that is in the business of assisting companies with setting up manufacturing operations in Mexico and has expertise in assisting movement of manufacturing from China to Mexico.
The company, with the assistance of the Shelter Service Provider, meets with their China manufacturer and negotiates an agreement where equipment and technology are transferred to Mexico.
Transfer of technology is initiated by manufacturing executives in Mexico visiting facilities in China and coordinating managers from China visiting Mexico to assist with the transfer of knowledge and operation of equipment.
The Shelter Service Provider locates physical space in the best location in Mexico, negotiates a lease, provides the number of qualified employees required and takes full responsibility for all legal issues for its clients in Mexico.
What Are the Benefits for a U.S. Company in Returning to North America?
Tariffs-Import Fees-Duties:  Under the recently negotiated replacement of The NAFTA, the USMCA (the United States Mexico Canada Agreement), it is probable that a U.S. company is able to shed most, if not all, tariffs and import fees and, under the guidance of a qualified Shelter Service Provider, may enjoy duty-free exporting of finished products to the U.S., Mexico, and Canada. Also available is the 9802 U.S. Customs Program when a product doesn't qualify for mitigated or duty-free treatment under the NAFTA or USMCA.
Reduce Production Costs:  Mexico has a 50-year track record of providing significant cost savings for U.S. Manufacturers, and just recently in providing cost savings over Chinses operations causing U.S. and Chinese companies to move operations from China to Mexico. With savings from lower labor costs, reduced shipping costs and, in some case, lower raw material costs, U.S. companies can reduce production costs below what they are currently experiencing.  A detailed analysis by a qualified Shelter Service Provider can be prepared as an initial step to show the savings that a U.S. company could experience with a return from China to Mexico.
Supply Chain Management is Simplified:  No more concerns about lengthy and costly ocean shipments and such problems as lost containers and dock worker strikes.  With a facility located in Mexico, there is quick and immediate access to the markets of the United States, Canada and, Mexico.
Mexico-Free Trade Agreements:  Mexico has more free trade agreements than any other country, opening up duty-free markets in over 50 countries including Europe, South America, Africa, etc.  For some companies, the opportunity to access these markets, duty-free, brings international marketing as a new growth opportunity.
Intellectual Property Protection:  Under the (USCMA) United States-Canada-Mexico Agreement) companies manufacturing in Mexico have full protection of their patents and manufacturing technology.
Where Do You Find a Qualified Mexico Shelter Service Provider?
Learn more about the Tecma Group of Companies, a company whose only function is providing Mexico Shelter Services. China manufacturing moving to Mexico is possibly one of Tecma's most valuable services for U.S. companies today.  Visit https://www.tecma.com and click the CONTACT US button at the top and we will be in contact with you shortly.