Firstronic Wins Supply Chain Leadership Award
Firstronic Wins Supply Chain Leadership Award
For the second year in a row, Firstronic has been recognized by the Frost & Sullivan Manufacturing Leadership (ML) Council. This year, Firstronic won the Supply Chain Leadership Award in recognition of its Lean Supply Chain Project. Other companies winning awards in this category include General Electric, Hostess Brands, IBM, Lexmark International, Siemens Healthineers and USG Mexico.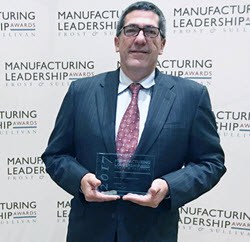 We are honored to receive this prestigious award, particularly since it recognizes the success of our Lean approach to supply chain partnerships. Lean supply chains are interdependent, so I'd like to thank our suppliers and customers, as well as our team for their support in this area. Managing a lean supply chain is particularly important in the current electronic component market as lead-times are continuing to stretch out across the board. Firstronic has been able to successfully navigate the current market conditions through the company's bonding reports and Kanban systems which provide visibility to potential continuity of supply concerns as far out on the horizon as possible.
Wally Johnson, Firstronic's VP of Finance, Supply and IT accepted the award on June 14, 2017, at a gala celebration that concluded the 13th annual Manufacturing Leadership Summit in Huntington Beach, Calif.
Now in its 13th year, the ML Awards program honors organizations and individuals that are shaping the future of global manufacturing. Nominations are entered into 13 categories and evaluated and scored by a panel of expert judges. Twelve of the ML Awards categories are for outstanding projects by a manufacturing company. One category recognizes the achievements of individual manufacturing leaders.
Announcement by: John Sammut  President & CEO
ABOUT FIRSTRONIC:    http://firstronic.com
Firstronic is a premier specialty provider of electronics manufacturing services (EMS), including turnkey electronic assembly and materials management services, to original equipment manufacturers (OEMs) in the electronics industry. Firstronic's electronic manufacturing services consist primarily of the manufacture of complex printed circuit board assemblies (PCBAs) using through-hole and surface mount technology (SMT), interconnection technologies including fine-pitch and mixed technology products.
Our Lean Operating System has been developed and implemented by a team of executives with significant automotive industry experience. Our lean approach has redesigned traditional electronics manufacturing and has resulted in high customer satisfaction ratings leading to very rapid growth in an industry that has otherwise been in decline throughout North America.
We are focused as a strong niche player in the complex EMS segments, primarily in the medical, industrial, and automotive markets. Our customers rely on our broad range of capabilities, superior customer service and highly flexible manufacturing operations specifically geared toward low-to-medium volume production.
We utilize sophisticated equipment in our manufacturing operations, which enables our team to provide synchronous flow manufacturing with a high degree of flexibility. Our Lean Operating System utilizes standardized metrics to ensure consistent performance throughout our facilities. We've standardized on the latest Siemens high-speed vision based SMT equipment with state-of-the-art soldering technology to reduce set-up and changeover times, which is key to efficiently producing low-to-medium volume products in a high-mix environment. Based upon this synchronous flow approach, we've been able to reduce order lead times to days, whereas most providers in the EMS industry require a fixed production schedule of several weeks.
The Tecma Group of Companies is proud to have Firstronic as a long term user of Mexico Shelter Services provided by Tecma.