TECMA Best of the Best award 2016
Jose, Grajeda, Vice-President of Operations of the Tecma Group of Companies, announced that CIVCO Medical Solutions has been selected to be the recipient of the Tecma Best of the Best Award for 2016.
As Sr. Gajeda wrote to Michael McVey, Vice-President of Manufacturing of the Civco Medical Solutions Company and Rafael Urquide, Civco Project Manager in Juarez, Mexico:
"For the year 2016 TECMA has selected CIVCO to receive the BEST OF THE BEST AWARD in recognition of the TECMA client company that has the best work environment.  This was based on a survey among the employees and collaborators of CIVCO.  In recognition of its constant attention to high quality standards of leadership we are proud to announce that CIVCO has been recognized with the TECMA BEST OF THE BEST award as the best work climate of all Tecma client companies in Mexico for the year 2016.  Rafael Urquide has been a key element and is doing an excellent job by implementing high standards of ethics, values and work culture.  Congratulations to all of the CIVCO team."
Mike McVey, Civco Vice President of Manufacturing accepted the award on behalf of CIVCO:
Jose, thank you for sharing this news with me!  CIVCO is extremely proud of what has been achieved by Rafael Urquide and the entire team at the Juarez facility.  It shows not only in the excellent results they achieve, but even more by how focused, how engaged, and by how much energy they bring to their workplace.
Rafael Urquide has developed and is leading a team of game changers – they don't accept the status quo, and they challenge all of us to be better at what we do, both by raising the bar and also by bringing solutions to real challenges we experience.
I thank you and the entire TECMA team not only for recognizing this team for their excellence, but for listening to their needs, supporting them and ensuring they have the opportunity to be "the best of the best!"
I look forward to seeing you, if possible, on my next visit to Juarez in February.
Sincerely,
Mike McVey
Vice President of Manufacturing
ABOUT CIVCO
For more than 30 years CIVCO Medical Solutions has been committed to positively impacting patient care through design, manufacturing and marketing of specialty products and services for the medical community.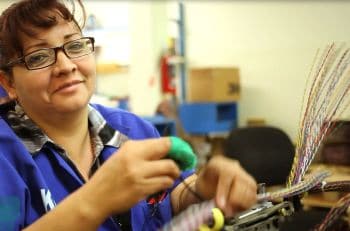 CIVCO's Multi-Modality Imaging (MMI) and Radiation Oncology business units offer a broad range of solutions and products for radiology, regional anesthesia, vascular access, men's and women's health, cardiology, radiation oncology, surgery and critical care.
In 2005, CIVCO became the medical platform for Roper Industries. Our partnership with Roper's imaging segment broadens Roper's life sciences business and enhances CIVCO's medical offerings and capabilities.
ABOUT THE TECMA GROUP OF COMPANIES
The Tecma Group of Companies, Inc., headquartered in El Paso, Texas and San Diego, California provides services that have enabled firms of varying sizes from a wide range of industries to establish and maintain Mexican manufacturing operations at low cost and reduced risk for almost three decades. Under its Mexico Shelter Manufacturing Partnership (MSMP) companies control and focus on their core, value-added functions, while Tecma tends to their human resource, payroll, accounting, logistics, and other non-manufacturing, but essential, tasks.  Visit https://www.tecma.com