Mexican workforce health is a priority of the Tecma Group of Companies
Each year Tecma offers a battery of tests and preventive care services to the Mexican workforce that it so highly values.
At the beginning of 2015, the Tecma Group of Companies was recognized by a Great Place to Work™ International's organization as being one of the top 100 Mexican companies by which to be employed. Among the reasons why Tecma succeeded in its efforts to earn this distinction is its longstanding commitment to promote, support and offer services that optimally ensure the existence of a Mexican workforce health.
In addition to ensuring the health and well-being of workers, well managed companies are aware that looking after the health needs of their Mexican workforce:
Creates a positive, safe and healthy environment;
Increases organizational morale;
Improves the work-life balance of the Mexican workforce.
When taken together, these considerations result in greater individual and collective fulfillment, and, hence, a positive impact on the businesses that concern themselves with this primordially important issue.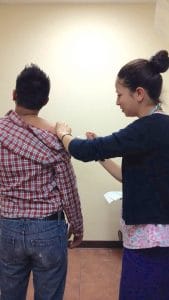 As is the case during each November, The Tecma Group's Human Resources and Medical Department, with its team of professional nurses, acted under the direction of Dr. Gustavo Villegas to provide a battery of medical services to all the members of the company's Mexican workforce that requested them. Although services were conducted in an equitable manner, priority was given to the most senior members of the Tecma staff, women carrying soon to be born children and employees with a history of cardiovascular and other common diseases.
The breakdown of services provided to its Mexican workforce by the Tecma Group of Companies during its annual November Program of Preventive Medicine is as follows:
three hundred and thirteen cholesterol tests
four hundred and ninety-two glucose reviews
eight hundred and seventy-three PAP smears
two hundred and nine tetanus vaccinations
eight hundred and sixty-two blood pressure checks
one hundred and eighty breast scans
In addition to the Tecma Human Resources Department, Medical Team and Dr. Gustavo Villegas, the delivery of the above listed services was facilitated and conducted with the cooperation and participation of the Mexican Social Security Institute, or as it is known by its acronym in Spanish, IMMS.
IMMS is an organ of the Mexican federal government that was founded in January of 1943, in order to satisfy the legal precepts established in the Article 123 of the Constitution. It's primary roles are to assist public health initiatives, and manage public pensions and social security programs. It operates under Mexico's Secretariat of Health.