Tecma Business Enterprise System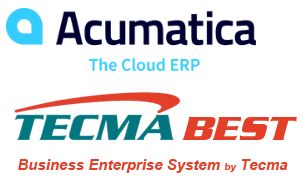 Tecma Business Enterprise System
As companies like Tecma birth they start with primitive management tools.  In 1986, when Tecma was started, the tools available were yellow legal pads, some pokey IBM floppy disc computers, fax machines and a lot of pencils with erasers. For years a Tecma Business Enterprise System was under review.
We are now in the year 2018 and Tecma has advanced to a new level of technology by working with Acumatica in the creation and installation of a 'LATEST STATE OF THE ART ENTERPRISE SYSTEM'.
The Tecma Business Enterprise System allows every department to be able to access key information in every other department finding areas of improvements and efficiencies that would otherwise never be visible.
Introducing BEST   –  Business Enterprise System by Tecma
BEST provides for our clients:
Custom made Dashboards for easy customized review of critical information.
Cost and payroll reports for control purposes
Purchasing Requisitioning and Ordering functionality to ensure all expenditures are pre-approved approval chains as defined by the "Delegation of Authority Matric"
Electronic Access to weekly Client Invoices and supporting detail.
Top Ten Benefits of BEST:
Integrated services. Including financials, distribution, client manufacturing, customer relationship management, project accounting and service management.
Access from anywhere. Authorized employees can now access the system through a secure log-in from anywhere in the world and on any device.
Self-service (no software required). With cloud-based software, there is no machine installation needed and all authorized personnel who need access can have it with no additional IT requirements.
Central repository for information. We are now able to keep all our critical business information in one integrated platform, accessible without the need for customized integration or repetitive data entry.
Integrated with Tecma's other web apps. Functions are easily integrated with other web applications such as Microsoft Outlook.
Scalable computer and storage resources. As Tecma grows, BEST grows with it. At any time, we can upgrade the resources and run multiple application servers.
Data back-up and data recovery. Built-in automated data backup and backup access services. In the unlikely case of a disaster or other emergency, we can restore data quickly.
Robust security. Our data is secure, with the highest levels available for physical and software protection. We control where our data is stored and managed.
Managing Human Capital with the Tecma Business Enterprise System

Managing Tecma's human resources means focusing on utilization rates, billings per client and employee, and team coordination.
With the BEST resource planning tool, staff can maximize human capital utilization.. The HR department can assess the need for human capital and deliver the necessary resources required to serve our clients.
Project tracking:
Project management has many components, including budget, progress tracking, timing, and resources allocation. With BEST project tracking is a few keystrokes away, driven by automation tools that track and analyze progress.
Managers now can create projects, assign resources and timelines, and track progress based on inputs from staff members and clients.
With information readily accessible, customer expectations, issues, and concerns can be addressed head-on and proactively.
Document sharing tools and communication tools keep team members well informed, aware of upcoming deadlines, necessary work and customer issues.
Welcome to the New World of BEST