Global Toy Movement Arrives in Juarez, Mexico

TECMA AND SPIN MASTER DELIVERED MORE THAN 1,500 TOYS TO CHILDREN IN CIUDAD JUÁREZ
Tecma brings Global Toy Movement Initiative to children in Mexico for a 4th consecutive year.
(EL PASO, TX) – Spin Master Corp.'s partnering with Tecma (TSX:TOY); www.spinmaster.com global initiative, The Toy Movement, continued its mission of ensuring that children all over the world have the opportunity to play, by partnering with El Paso's Tecma Group of Companies for another special delivery to Mexico. Over this past week, employees from both companies and volunteers from the community delivered hand-wrapped toys to children from five vulnerable schools in the Ciudad Juárez, Mexico area.
This marks the fourth consecutive year that Tecma and Spin Master join in this initiative to give these vulnerable children in our sister community of Ciudad Juárez the opportunity to unwrap a present during the holiday season. In addition, local dairy distributor Sarah Farms provided a carton of milk with each of the more than 1,500 toys that were delivered this year.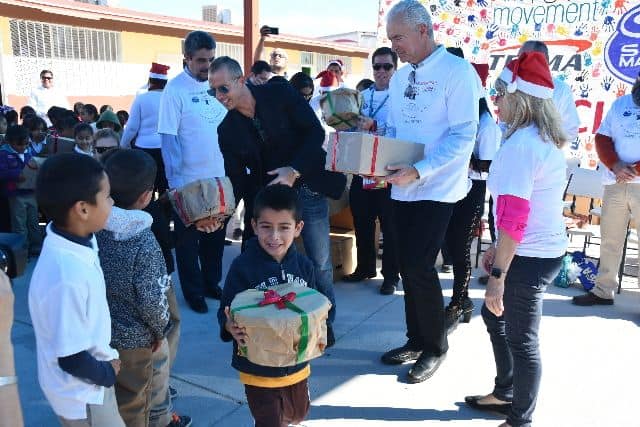 "I am honored and humbled to have been on the ground this past weekend in Ciudad Juárez hand-delivering toys to deserving children in the community," said Ben Gadbois, Global President of Spin Master. "Every child deserves to unwrap a present during the holiday season and we are grateful for the support that Tecma has provided over the past four years to make this dream a reality in Mexico."
The Toy Movement has delivered toys around the world including communities in Gaza, Turkey, Israel, Iraq, South Africa, and Jordan, as well as Tijuana, Mexico. By bringing together committed partners, such as Tecma Group, the initiative provides children around the world with the opportunity to play, learn, and grow regardless of circumstances.
"Every year we continue to strengthen our partnership with Spin Master and The Toy Movement, allowing us to deliver more presents to children in various neighborhoods across Ciudad Juárez, and Tijuana," said Alan Russell, Chairman, and CEO of Tecma Group. "Giving back during the holiday season not only speaks to the values of our company but has become a cherished tradition among our employees and volunteers. Delivering toys that spark creativity and imagination to children in the most vulnerable parts of Juárez during the holiday season is something we look forward to all year. For many of these children, this will be the only present they receive at all for Christmas."
About The Tecma Group
Tecma was co-founded over three decades ago by current company Chairman and CEO, K. Alan Russell. What started in 1986 as a small operation occupying a total of 8,500 square feet has become a sizable international enterprise that occupies more than three million square feet of production, warehouse and distribution space on both sides of the international border. In addition Tecma provides Mexico Shelter Services in cities throughout Mexico including Torreon, Rosarito and Durango. Today the Tecma Group proudly employs thousands of individuals, has a client list of over seventy-five Global and U.S.- based Mexican manufacturing companies.
About The Toy Movement
The Toy Movement is a Spin Master led, a global initiative to ensure that all children have the opportunity to be a child and to be inspired through play. Formed in December 2014, The Toy Movement's mission is simple: to deliver inspiration, imagination, and joy to children living in troubled parts of the world. The Toy Movement aims to show these children that they are not alone, that they are not forgotten, and that they deserve to play, learn, and grow – as all children should. Learn more at The Toy Movement.
About Spin Master
Spin Master (TSX:TOY; www.spinmaster.com) is a leading global children's entertainment company that creates, designs, manufactures, licenses and markets a diversified portfolio of innovative toys, games, products and entertainment properties. Spin Master is best known for award-winning brands including Zoomer®, Bakugan®, Meccano®, and 2017 Toys of the Year, Hatchimals®, Air Hogs® and PAW Patrol®. Since 2005, Spin Master has received 91 TIA Toy of The Year (TOTY) nominations with 21 wins across a variety of product categories, including 13 TOTY nominations for Innovative Toy of the Year, more than any of its competitors. To date, Spin Master has produced six television series, including 2007 success Bakugan Battle Brawlers and current hit PAW Patrol, which is broadcast in over 160 countries and territories globally. Spin Master employs over 1,500 people globally with offices in Canada, United States, Mexico, France, Italy, United Kingdom, Slovakia, Poland, Germany, Sweden, the Netherlands, China, Hong Kong, Japan, Vietnam and Australia.
If you are interested in learning more about The Toy Movement or would like to join the effort, please visit http://www.thetoymovement.org
Additional Contact:
Tara Tucker, Vice President, Global Marketing Communications, mediarelations@spinmaster.com