Tecma Recognized by Great Place to Work Institute for Gender Equality
Tecma Recognized by Great Place to Work Institute for Gender Equality
62nd Place of the Best 100 Companies in Mexico for Gender Equality was awarded to the Tecma Group of Companies by 'The Great Place to Work Institute' of San Francisco, California.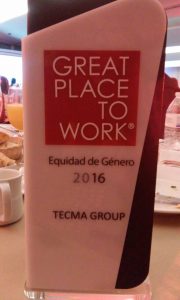 "Most of Tecma's work areas such as Accounting, Customs, HR, and Cleaning have a 50/50 percentage of male –female employees, at present, even at OD, (Organizational Development), the female number increases to 60% women, 40% men."  Toby Spoon of Tecma
The Tecma Group of Companies has been honored with yet another achievement award for creating a positive, productive environment for all its employees.
Who is "The Great Place to Work Institute"?
For over 25 years Great Place to Work Institute studied and identified great workplaces around the world.
It begins with an investment in building trust throughout an organization. The return is a more vibrant enterprise, more innovative products and more satisfying relationships. Employees who trust their managers give their best work freely, and their extra effort goes right to the company's bottom line. Managers who trust their employees allow innovative ideas to bubble up from all levels of the company. Employees who trust each other report a sense of camaraderie and even the feeling of being part of a family. Together they deliver far more than the sum of their individual efforts.
"Tecma has 38% female, 62% male population within its workforce, one of the best ratios in Mexico.  We still have room to level those numbers more evenly, a fact that gives us the motivation to work harder to reach that goal." Eduardo Leon of Tecma
The Great Place to Work® Model has been built on 25 years of research
Many of the best performing companies have followed this insight and seen tremendous results. At the Great Place to Work® Institute 25 years has been invested in tracking these leaders and learning from their successes. By surveying millions of employees and studying thousands of businesses, they have created a model for building performance based on trust. It's their contribution to a global shift in businesses that is changing the way the world works.
"As one of the most important events of the year, Mothers' Day Party, our company celebrates that unique distinction of being a woman and a Tecma's mother." Abraham Medina of Tecma
We know that trust is the single most important ingredient in making a workplace great.
Data shows that building workplace trust is the best investment a company can make, leading to better recruitment, lower turnover, greater innovation, higher productivity, more loyal customers and higher profits. The model provides specific, actionable steps to get there.
"With the recent promotions to management level of two of our most valued female employees, Gaby Carlon and Irma Carreon, we are strengthening our Gender Equity numbers."   Joe Grajeda of Tecma
Great workplaces are better financial performers.
Companies and organizations that wish to maintain Best Company environments are participants in the program. Those that are ready to dramatically improve the culture within their workplaces, and those in between the two. It is proven that organizations that build trust and create a rewarding cycle of personal contribution and appreciation create workplace cultures that deliver outstanding business performance.
"Unusual to any company is the special parking space that Tecma reserves to pregnant mothers, right next to the building's main entrance, to ease her transportation to and from work." Juan Arvilla of Tecma
Tecma Group Honored Two Years in a Row
At a ceremony recently conducted in Mexico's Federal District, the Tecma Group was recognized as a Great Place to Work® for the second year in a row. Tecma has also been named to be an even greater place to work in 2016 than it was in 2015. That Tecma's ranking amongst Mexico's top employee centered workplaces moved up impressively from 2015's 82nd spot to number 56 in 2016 shows that the organization and its leadership has made great strides in making the company one of Mexico's most desirable employers. Although the Great Place to Work Institute (GPTI) is headquartered in the US city of San Francisco, it has an international presence and reach that is globally recognized and respected.