Tecma takes corporate social responsibility seriously
Left to right: Tecma's David Romo, Carmen Ramirez, Lilia Heredia and Josue Rodriquez
The Tecma Group and its client base partner to support Ciudad Juarez social service non-profits.
The Tecma Group of Companies holds the position that, in order to be successful and vibrant, local businesses must support individuals and organizations that work to promote the well-being of the citizens in the communities in which it conducts its affairs.
Because of its adoption of a proactive approach to issues related to corporate social responsibility, Tecma recently was the recipient a recognition of gratitude from two social service organizations that are based in Ciudad Juarez to which it provides financial assistance. They are:
Salud y Bienestar Comunitario, A.C.
Fundacion Integra
Salud y Bienestar Comunitario (SABIC), or, in English, Community Health and Well-Being, is a non-profit organization that works to promote health, from a holistic perspective that includes the incorporation an overall approach to promoting the physical and mental well-being among women and families in the area in and around Ciudad Juarez. In its mission is to provide service to targeted communities, SABIC
specifically seeks to:
Attend to community demands and needs in the areas physical and mental heath, through the provision of access to medical and psychological resources, as well as to those linked to alternative medicine techniques;
Contribute to a culture of prevention through education;
Train individuals capable of performing therapeutic and educational tasks within the community;
Conduct research to assess the physical and mental health state of affairs in Ciudad Juarez, and is environs;
Contribute to raising the quality of life of the community by acting as an energetic advocate for robust policies aimed at improving public health.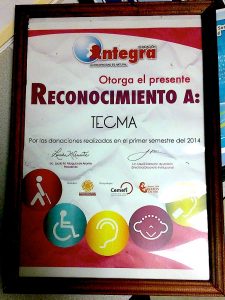 Fundacion Integra (The Integra Foundation) was founded in 1994 in the garage of a private home to educate five children with Down's Syndrome. Today, special needs children, adolescents, adults and their families receive comprehensive services to meet their individual and collective needs at Villa Integra, a one-stop-shop for rehabilitation and mainstreaming of citizens with physical an mental challenges. Villa Integra places organizations with a variety of focuses that address the issues that affect this community in one geographical location. In addition to performing services that mainstream its special needs clients, Fundacion Integra offers:
Exercise therapy
Water therapy
Electro-stim treatments
Botox for muscular relaxation therapy purposes
Transportation services
In recognition of its support of their organizations, Tecma received special certificates from both Salud y Bienestar Comunitario, A.C. and Fundacion Integra for donations made in support of their ongoing efforts. Gifted funds were collected as a result of the collaboration between the Tecma Group of Companies and its Mexico manufacturing client base to gather and sell recyclable materials to third parties. Materials sold in order to generate funds for donation to the two social service organizations included:
cardboard
paper
metals
pallets and used wood
The Tecma Group of Companies would like to sincerely thank its following Mexico manufacturing partners for their generous participation:
As a responsible corporate resident of Ciudad Juarez, Mexico, the Tecma Group of Companies will continue its support those organizations working for the good of the residents of the community.