The Tecma Group of Companies joins an alliance with Los Bravos Soccer Club
Los Bravos de Juarez  has signed a strategic alliance with Tecma, a leading company in the transformation industry. With more than 30 plants in Cd. Juarez Tecma is positioned as the top shelter provider in the region assisting companies establish their manufacturing operations in Mexico.
Present at the signing of this alliance were Benito Fernandez, member of the Administrative Council of FC Juarez; K. Alan Russell, Chairman and CEO of Tecma; Toby m. Spoon, Executive Vice President of Tecma and as honorary guest Mohammed Alkuwari, Ambassador of Qatar in Mexico.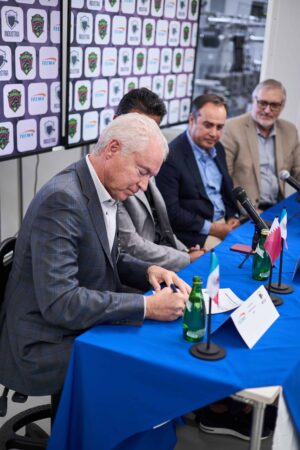 This alliance will bring joint events, sponsorships, visits from the Bravos players to the manufacturing plants, and visits from the employees to trainings with the first team. The intention is to bring the team closer to the community and the Tecma employees. Today, the Bravos become one more member of the Tecma Family.
Alan Russell Chairman and CEO of the Tecma Group of Companies expressed that this will be a great moment to show the excellent opportunities that Cd. Juarez has to offer to the world. "This is our chance to show not only Juarez and not only Mexico, but to the world of who we are in this beautiful city".
The Qatari Ambassador pointed out that his country is interested in investing in all sectors, not only in sports. "I always get the question: what does Paris Saint-Germain means to Qatar? yes, we bought PSG 100% as an investment, and that is the reason I'm here today, to discover what Cd. Juarez has to offer, not only for Qatar, but to the whole world".
Georgina Contreras, Director of Culture Innovation of Tecma, along with Kathia Terrazas and the rest of her team, will continue to work with FC Juarez to bring more events to the community of Cd. Juarez. On the next FC Juarez game, Tecma will be having a "Fan Day" with a pre-game concert, different activities for the families attending, and spectacular fireworks show to close the event.
In closing, Toby M. Spoon, Executive Vice President of Tecma stated how proud he is of the unity between the people in Cd. Juarez and Los Bravos, that allows the community to join together through this type of events without regard to social or economic status.