The Tecma Group of Companies continues bringing joy to children.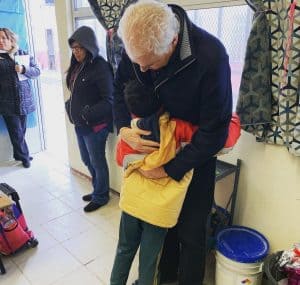 January, 2020
This January, once again, the donation of toys by Spin Master and Tecma to schools in Ciudad Juarez, Chihuahua and Silao, Guanajuato took place. In addition, Sarah Farms, a local dairy distributor, provided milk and breakfast with each of the more than 800 toys that were delivered this year.
Alan Russell, Chairman of the Board and CEO of The Tecma Group of Companies, along with his team of Executives took charge of delivering the toys in Ciudad Juarez.
Executive Vice President, Toby Spoon, shared with local news some of his thoughts in regards of this special initiative: "The reason behind this movement is for us to give a child a moment of joy, and especially in places in the world where children do not have the economic resources. Our goal is to give children a chance to think that such things are possible."
At the same time, the rest of the Tecma Family in Silao, Guanajuato contributed by going to two different schools and distributed toys to more than four hundred kids.
About The Toy Movement
The Toy Movement is a Spin Master led, a global initiative to ensure that all children have the opportunity to be a child and to be inspired through play. Formed in December 2014, The Toy Movement's mission is simple: To deliver inspiration, imagination, and joy to children living in troubled parts of the world. The Toy Movement aims to show these children that they are not alone, that they are not forgotten, and that they deserve to play, learn, and grow – as all children should. Learn more at The Toy Movement.
This is the fifth consecutive year that The Tecma Group of Companies brings the Global Toy Movement initiative to children in Mexico.