Mid-West Textile Celebrates 10th Year Anniversary in Mexico
El Paso, Texas
On Monday October 5, 2020, The Tecma Group of Companies and Mid-West Textile celebrated their 10th year anniversary of partnership in the operation located in Cd. Juarez, Chihuahua.
Textile recycling is one of the oldest and most established sectors within the recycling industry with active participants covering all reaches of the globe. In the US alone, textile recycling salvages 10 lbs. per capita or 2.5 billion lbs. of post-consumer waste every year.
Mid-West Textile, since its establishment in the early '80s, has grown to become one of the largest textile recyclers in the Americas. It has built a successful business around its ability to create value out of used textiles and clothing that would have otherwise been thrown in the trash. This organization plays an important part in the global effort to create sustainable, environmentally friendly industries.
The event began around 11:00 am with a few words from the President of Mid-West Textile, Jim Maxfield, followed by the President of Tecma Group, Mark Earley.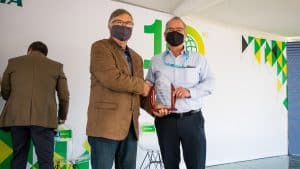 Mr. Maxfield expressed his gratitude to all of the team that has worked for the past 10 years in this project and mentioned the importance of having a great team in order to accomplish long term goals.
After his speach, Juan Carlos Carvallo Director of Mexican Operations of Mid-West Textile proceeded to give the recognitions to the employees that have been with the company for those 10 years.
Georgina Contreras, Director of Culture Innovation of the Tecma Group of Companies as host of the event, continued thanking Mid-West Textiles for the magnificent association through which they have managed to offer many jobs to the Ciudad Juarez community.
To finalize this ceremony, a banquet was served to all employees, staff and executives of the company while a video of the past 10 years of the company was played, which was full of special moments for each of the members of this great family. At the end, a commemorative mural of this great event was inaugurated within the establishment.